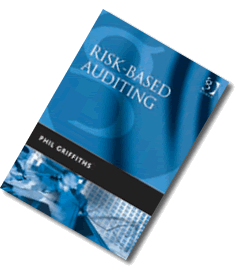 Risk Based Auditing - By Phil Griffiths
Phil's international best seller 'Risk Based Auditing' is available to order
Phil Griffiths' Risk-Based Auditing explains the concepts and practice behind a risk-based approach to auditing. He explores the changing environment in both the Private and Public sectors and the associated legislation and guidance, The book then provides a blueprint for refocusing the internal audit role to embrace risk and to help plan, market, undertake and report a risk-based audit.
The text includes a detailed risk-based audit toolkit with fifteen sections of tools, techniques and information to enable a risk-based approach to be adopted.
This is an essential guide for auditors seeking to manage the realities of the audit function in today's turbulent and fast-changing business environment

Risk Based Auditing by Phil Griffiths. E-Book, £25.00
Order Your Copy
To order your copy of this must-have book for delivery by email, please complete the form below.
The price of this book is £25
---
We accept the following credit cards, using a secure server from