Business Risk Management Ltd - The leading provider of risk management, internal audit, fraud and business assurance services
2017 is expected to be a year of fresh opportunities and challenges.
That is why you need to recognise that your gifted managers and staff and those with potential are your USP (unique selling point) – no-one else has these people – and you want to keep it that way.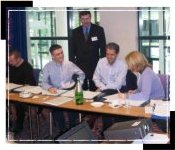 If you provide these personnel ( the ones you really need) with first class training and development opportunities and access to acknowledged experts they will repay you by exceeding your expectations and turning risks into business opportunities. They will also help you deliver better services with the same resources.
If you do not, you will undoubtedly lose them and they will become another organisations USP
We have a refreshingly simple approach to providing training and consultancy services in the fields of Internal Audit, Risk Management, Fraud prevention and Business Assurance. We do not attempt to be a 'jack of all trades' but provide proven expertise in these specific fields and provide the most up to date thinking and straightforward practical delivery . These services have been provided to over 1000 organisations during the past 12 years and feedback has been consistently excellent.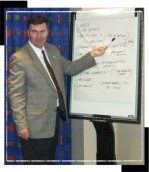 In addition to providing services for the UK market, we work with world renowned training providers such as Informa Middle East, Ken Knowledge and Salvo Global to deliver a wide variety of courses and consultancy services.
All training courses can be provided on an in-house basis anywhere in the world.
Train your internal auditors, whether new or experienced in the professional discipline of Internal Audit

Develop the skills and techniques of your risk managers

Provide awareness to the Board in Enterprise Risk Management

Quality Assure your Internal Audit function

Receive practical guidance on how to tackle the threat of fraud

Develop a structured Enterprise risk management process for your organisation
Give us a call on +44 (0)161 339 3898 or send an e-mail to pg@businessrisk.co.uk
You will be glad that you did
Click on the links on the left for full details of our key services and learn how your organisation can benefit
BUSINESS RISK MANAGEMENT LTD - TURNING RISK INTO BUSINESS OPPORTUNITY
Phil's international best seller 'Risk Based Auditing' can be ordered directly from this website.

Phil's newest book 'Enterprise Risk Management - The Key to Business Success' is also now available.

For more information, or to order the books, please look in the Publications Section
If you wish to be kept informed of coming Business Risk Management Ltd events, please subscribe by entering your e-mail address below.